Scroll Down For Related Links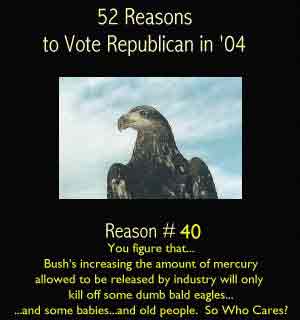 Industrial mercury is a major source of environmental mercury contamination that the March of Dimes says seriously threatens the health of America's mothers and babies.
Of particular concern for bald eagles in the southeastern region and in Maine are the toxic effects of mercury. High levels of mercury affect eagles with a variety of neurological problems in which flight and other motor skills can be significantly altered and reduce hatching rates of eggs.
Other health impacts of mercury exposure include: Deterioration of the nervous system; Impairment of hearing, speech, vision and gait; Involuntary muscle movements; Corrosion of skin and mucous membranes; Chewing and swallowing becomes difficult