The Top 52 Reasons to Vote Republican in 2004
(or, Why I'm Voting Democrat in 2004)
Scroll Down For Related Links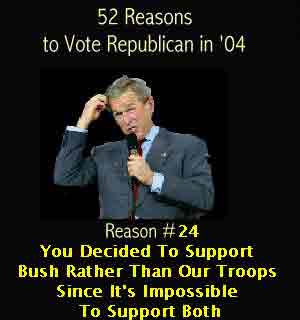 Early this morning, the House of Representatives voted on a fiscal 2004 budget that cuts funding for veterans health care and benefit programs by nearly $25 billion over the next ten years. Coming only a day after Congress passed a resolution to "Support Our Troops", Veterans for Common Sense views this action as anything but.
Shafting, not 'supporting,' the troops
"The Bush Administration isn't supporting our troops, they are wasting them and making our brave men and women miserable"