Scroll Down For Related Links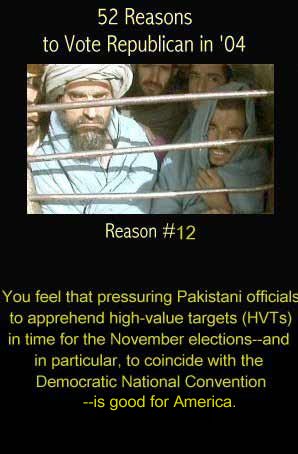 Although the capture took place in central Pakistan "a few days back," the announcement came just hours before John Kerry will give his acceptance speech in Boston
U.S. officials suspect bin Laden and al-Zawahri and other al Qaeda supporters are hiding somewhere in rugged tribal areas along the Afghan border and have (recently) put pressure on Pakistan to pursue foreign militants in the lawless region.
Under United States pressure to get results, the army bombed the hideouts of these suspected militants on Friday. They also ordered the capture of Nek Mohammed and his four closest colleagues, dead or alive.
A White House aide told Pakistani intelligence chief Ehsan ul-Haq that the best days to announce the killing or capture of any target would be July 26, 27 or 28, coinciding with the first three days of the Democratic National Convention in Boston, the Magazine cited an unidentified subordinate of ul-Haq as saying.